Beginnings
The beginnings of Klondike (A Tale of the Gold Rush) occurred back in the mid 1990's. My wife Beth is a travel agent who had been to Alaska before we met. Our first trip there was in 1992 and we have taken four additional trips there together over the years. I was inspired to write the story after the very first trip. Our 1997 trip consisted of flying to Seattle, relocating an RV from there to Anchorage, AK, renting a jeep, driving to Seward, AK (on the tip of the Kenai peninsula), and cruise back on this three-week extravaganza. We actually saw where the first gold was found in Dawson City, Yukon, Canada!
Klondike (A Tale of the Gold Rush) is a story of two headstrong brothers (Edwin and Samuel) who struck out from Seattle to find gold in 1898's famous Klondike Gold Rush.
I had just learned Finale notation software that (back in the 90's, mind you) was a new way for me to express music. I decided to score the newly-minted story with my Cyrix-based (instead of Intel chip-based) computer. The experience was a real teacher of patience, for sure. I was just getting started using midi to trigger the Alesis HR-16 Drum Machine I used. The Cyrix was a nightmare that continually crashed no matter what I did, so I spent hours rebooting and waiting. Not only did it teach me patience, but I learned a lot about problem-solving. Whoever said "Necessity is the mother of invention" (Zappa? 🙂 was certainly correct!
Also, I employed the Alesis MMT-8 Midi Recorder to sequence the drum/percussion parts and sync them with the score. It was detailed and maddening, but such is life, right?
Next Phase (And Beyond)
The next phase was the writing of the songs that would tell the story. I wrote a total of thirteen songs for the album. I really don't have a particular style, so I just start thrashing things out and see what happens. In those days, my songwriting usually started with the lyrics and the music was worked out on acoustic guitar.
After writing the songs, I then started scoring with Finale, a program I've used for twenty-five years. It has really evolved over the years, and I love it! I start the process by choosing instruments (limited in the 90's), adding the staves, and start plugging in notes.
Next, came programming the the drums and percussion with the a fore-mentioned Alesis HR-16. Every note had to be step-edited, then sequenced.
to Sounds then were triggered by Finale through midi into the Kawai K4R rack-mounted sound module. My main sounds came from this module at the time, in addition my computer (with an old Turtle Beach Pinnacle sound card).
(Yes, I also remember recording on 4-track reel-to-reel -I'm old as dirt!)
Anyway, I'm not quite sure exactly how all this was meshed together with patch cords and midi cables, but I continued stubbornly along with this project and working my day job.
Digital World
Now, I entered the digital world with the acquiring a Roland VS-1680 16-track stand-alone digital workstation.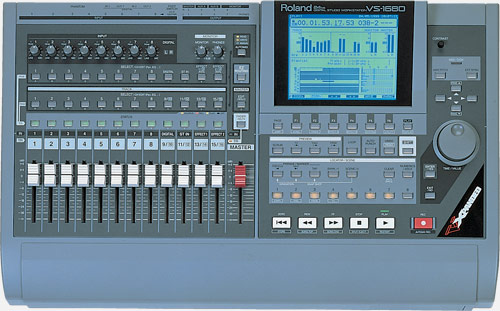 There were few choices (compared to today) of multi-effects processors to use on the recorded digital wave files, but it was still a step ahead, so… I ran my audio into the recorder synced with midi. Then, I added the bass, guitar, and vocals.
Since each song was prefaced by relevant story line, I needed a great narrator. Fortunately, I'm married to the best-Beth! She has almost 10 years experience (part-time) on commercial radio (back in the day), so she was a natural and did a fantastic job.
Rolling On…
Rolling on, I produced the first seven albums for Spiral Rhythm, the first three Skyypilot albums, and Heather Jimaku's album on the Roland VS-1680 while continuing the day job and looking to make my next move.
Then I got a new computer, and I got free software for Tracktion with my (then) new ESI Juli@ sound card. This was around 2007. I instantly bonded with this Tracktion (now called Waveform) and have used it ever since. You can get a totally free copy of T7 on their website (linked earlier). I recommend this highly.
Next, I synced the digital recorder with the computer and dumped everything on the computer where I added drums, percussion, and chose updated instruments using a VST plugin– IKMultimedia 's Sample Tank (Free version of that and more here). Free versions of AmpliTube and T-RackS is on that web page, as well. AmpliTube allows you to modify your recorded wave files of guitar (or anything, really) into completely different sounds; even go from acoustic to electric and back! T-RackS are plugins for signal processing such as compressors, limiters, equalizers, etc.-essential steps for polishing the mix.
Beth added her narrative magic touch, and the recording was completed.
I finally released "Klondike" on January 1, 2009.
Years Later…
Years later, in 2017, I discovered Waves plugins, game-changing tools in signal processing. It gave me instant access to legendary analogue-modeled studio gear I could never before afford. Now, I can virtually "change studios" after the fact. I released an updated remaster in Oct., 2017.
Enter 2018 and I finally retired from the day job and giving music, video, blogging, and Skyypilot website, my full attention. By August, I was convinced to go through all the files one-by-one, completely remixing, then remastering for the final time.
Skyypilot's- "Klondike (A Tale of the Gold Rush)" was proudly released 1-18-19. Download or stream anywhere you get your music.
© 2019 J. Mark Witters Skyypilot.com